Travel
Port Lincoln Accommodation: The Ultimate Top 10 Picks for Your Unforgettable Stay
Situated along the southern coast of the Eyre Peninsula in South Australia, Port Lincoln beckons travellers with its stunning coastal views, abundant wildlife, and lively maritime culture. This picturesque town, often referred to as the "Seafood Capital of Australia," seamlessly blends natural beauty with captivating experiences. From the captivating turquoise waters of Boston Bay to the rugged cliffs and pristine beaches, Port Lincoln provides attractions that cater to every type of visitor. When planning your trip to this remarkable destination, securing the perfect Port Lincoln accommodation takes centre stage. To make your search for the ultimate spot to relax and recharge easier, we've carefully compiled a comprehensive list of the finest Port Lincoln accommodation options available. Each of these establishments has its own unique charm, providing a comfortable retreat amidst the enchantment of this coastal paradise.
When visiting Port Lincoln, there's a handy app you should keep on your phone called Orderoo user app. Orderoo allows you to conveniently order food and alcohol delivery right to where you're staying, adding an extra level of convenience to your stay in Port Lincoln.
Port Lincoln Hotel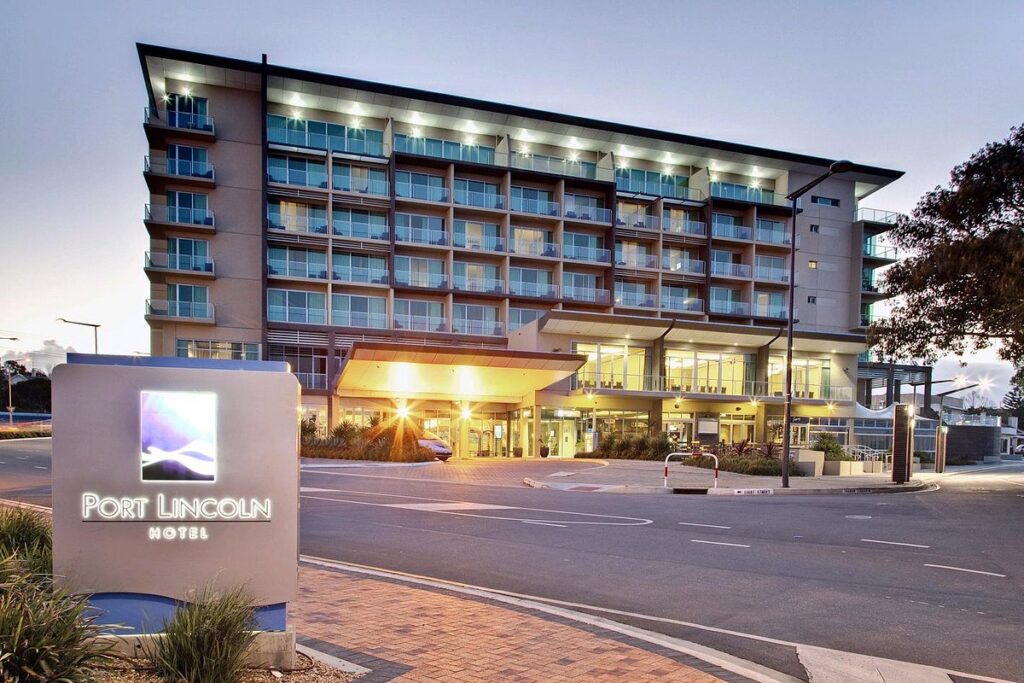 Located right on the waterfront, the Port Lincoln Hotel boasts modern rooms and suites, many of which offer breath-taking ocean views. Wake up to the sound of crashing waves and enjoy the convenience of on-site dining options that showcase the region's delicious seafood. Unwind at the rooftop bar while sipping your favourite drink and taking in panoramic vistas of Boston Bay. The hotel's central location provides easy access to Port Lincoln's bustling foreshore and its array of shops, cafes, and restaurants.
Hilton Motel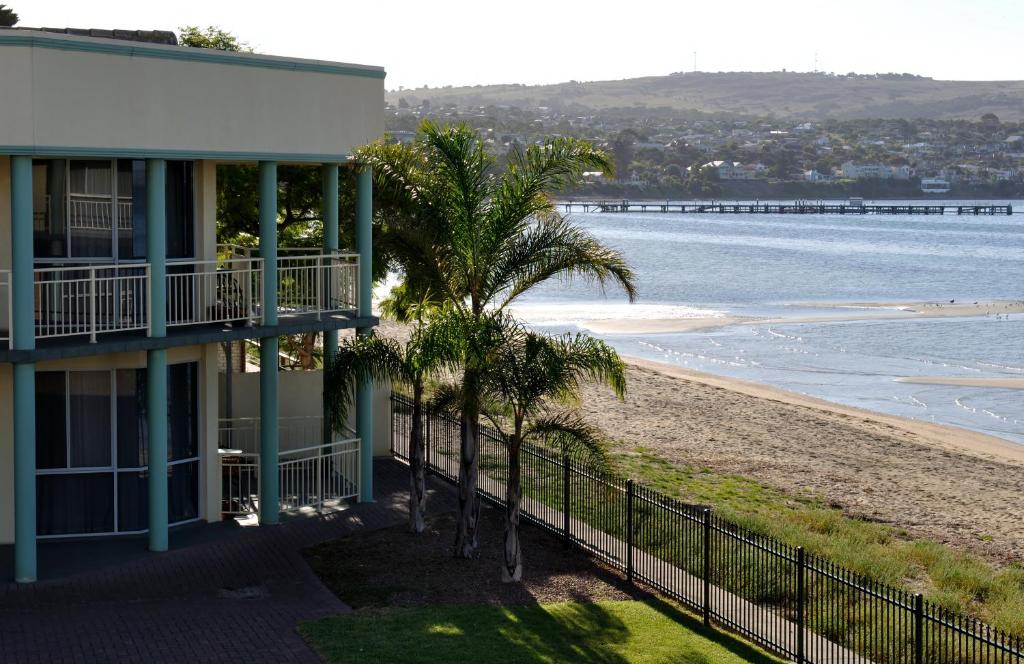 Situated in a prime location in Port Lincoln, the Hilton Motel provides convenient and comfortable accommodation for travellers. The motel presents finely furnished rooms with contemporary amenities, assuring a delightful stay. Revel in the added perk of on-site parking and seamless access to local gems like the Port Lincoln Marina and the picturesque Parnkalla Walking Trail. The Hilton Motel Port Lincoln takes pride in its amiable staff, committed to delivering exceptional service, thus making it a prime selection for both business and leisure travellers seeking accommodation in Port Lincoln.
Marina Hotel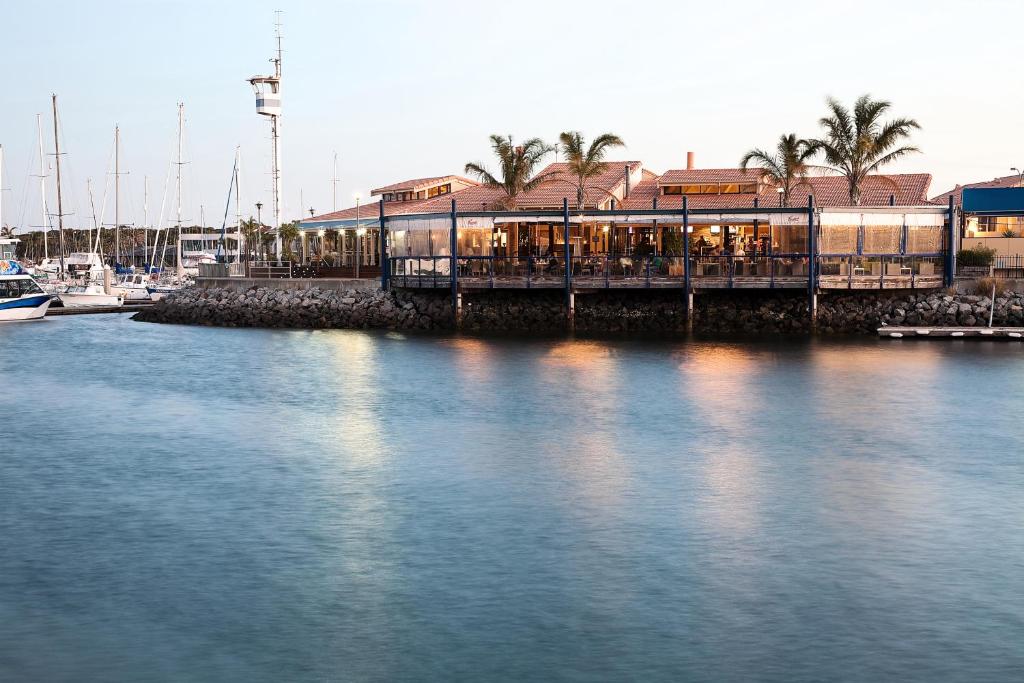 For those seeking a comfortable stay within close proximity to Port Lincoln's marina, Marina Hotel is an excellent choice. Enjoy spacious rooms, friendly service, and the convenience of being steps away from the harbour, where you can embark on various water activities such as fishing charters, dolphin tours, or even cage diving with great white sharks. After a day of adventure, unwind at the hotel's restaurant, which showcases fresh local seafood and offers stunning waterfront views.
Port Lincoln YHA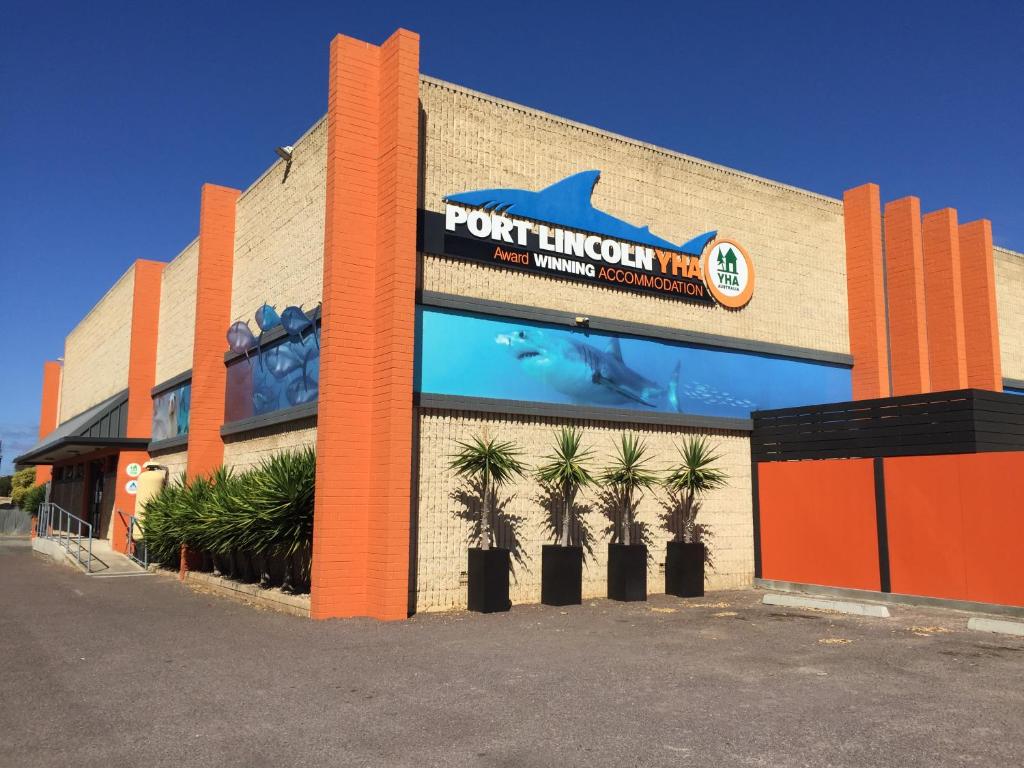 Located in the heart of Port Lincoln, Port Lincoln YHA offers budget-friendly accommodations with a friendly and vibrant atmosphere. The hostel provides a range of room options, including dormitory-style rooms and private rooms. Guests can enjoy the communal areas, including a fully equipped kitchen, spacious lounge, and outdoor BBQ area. The knowledgeable staff can provide recommendations on local activities and help you book tours to explore Port Lincoln's stunning coastline and wildlife.
Limani Motel Port Lincoln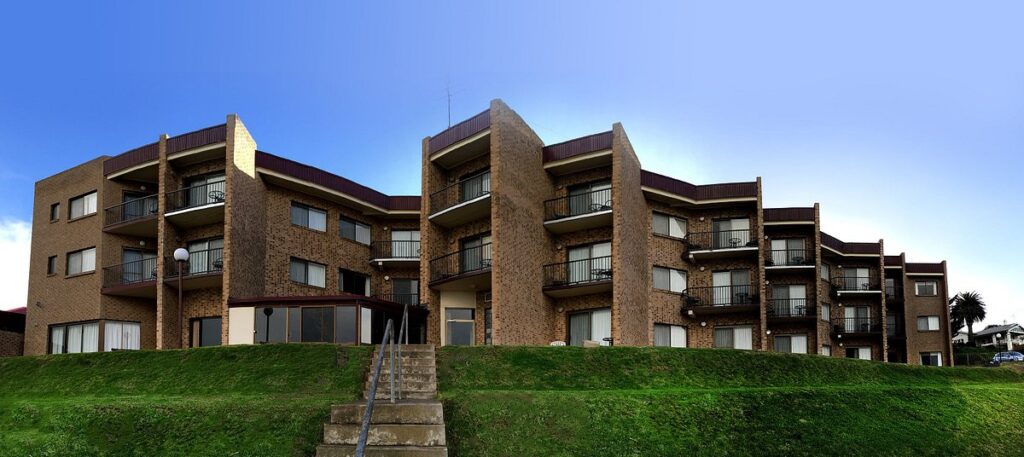 Experience affordable and spacious Port Lincoln accommodation at Limani Motel on Eyre Peninsula, South Australia. Enjoy stunning sea views of Boston Bay and Boston Island from our 21 rooms, suitable for solo travellers, corporate guests, couples, and families. Located in the "Seafood Capital of Australia," our motel is conveniently close to dining options. Dive into exhilarating shark encounters, explore rugged coastlines, and discover local wines and attractions. Note: No elevator available, but rooms offer modern amenities for your comfort.
The Port Lincoln Caravan Park North Shields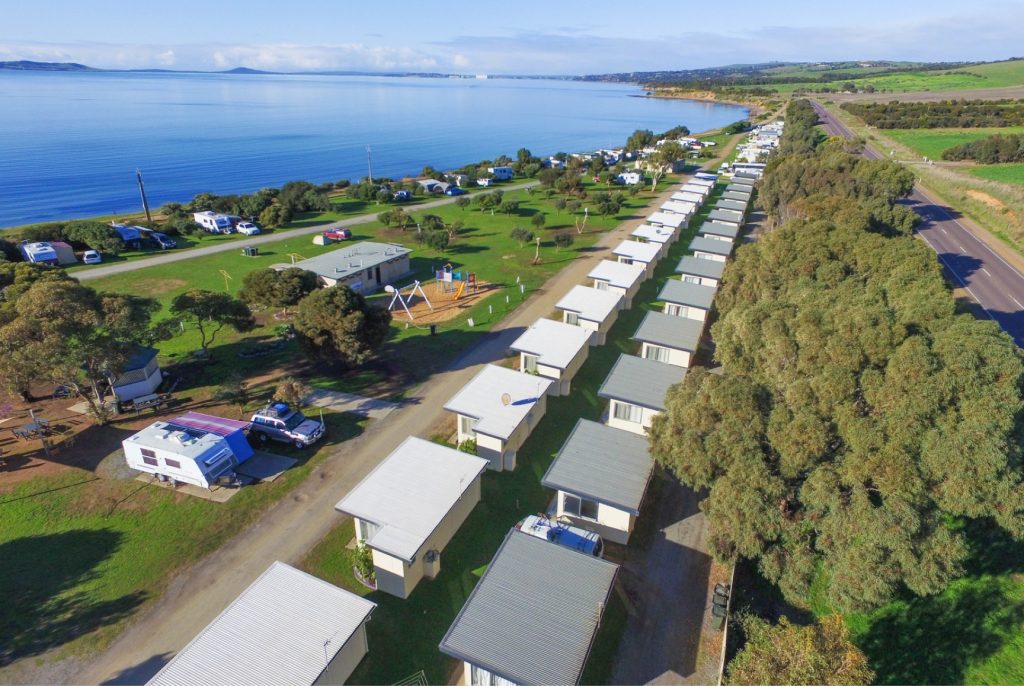 Ideal for travellers seeking a budget-friendly option without compromising on comfort, The Port Lincoln Caravan Park offers a range of self-contained cabins and caravan sites. Nestled among landscaped gardens, the park provides a peaceful environment for relaxation. Enjoy the convenience of communal facilities, including BBQ areas, a camp kitchen, and a children's playground. The friendly staff can also assist you in organizing fishing charters or wildlife tours to make the most of your stay.
Port Lincoln Villas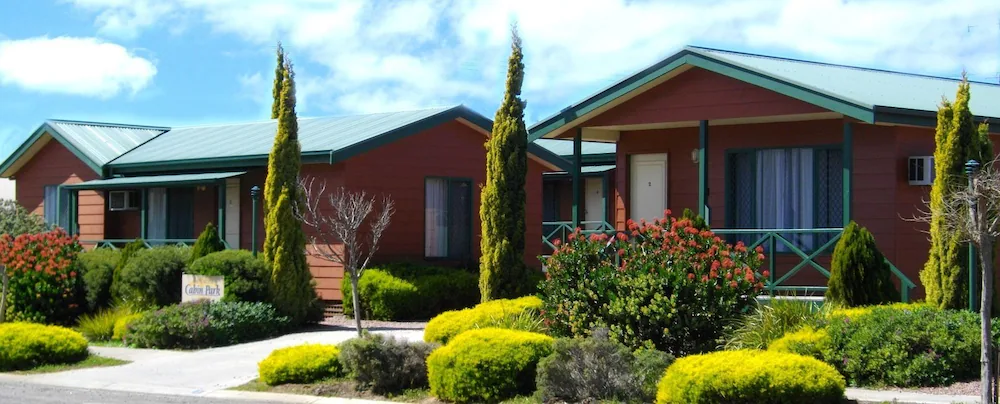 Situated on the gorgeous pristine Lower Eyre Peninsula otherwise known as the Seafood and Aquaculture Capital of Australia. Situated only a short distance from the town centre with award winning restaurants, vibrant music, nearby beaches, playgrounds and a stone's throw away from Port Lincoln's famous Beer Garden Brewery, you will find the Port Lincoln Villas. Consisting of 1 and 2 bedroom fully self contained villas, whether you are traveling for business or a family holiday, we have the ideal Port Lincoln accommodation for you!
Port Lincoln Tourist Park
Ideal for families and nature enthusiasts, Port Lincoln Tourist Park presents an array of accommodation choices, encompassing cabins, powered sites, and camping zones. Embraced by a picturesque natural backdrop, the park extends a tranquil and family-oriented ambiance. Engage your days in discovering the adjacent national parks or embark on a brief journey to the breath-taking beaches of Coffin Bay. Complete with amenities like a camp kitchen, a communal BBQ locale, complimentary WIFI, a food van, a children's playground, and a swimming pool, the park guarantees a pleasurable and cozy stay for those seeking accommodation in Port Lincoln.
Port Lincoln Foreshore Apartments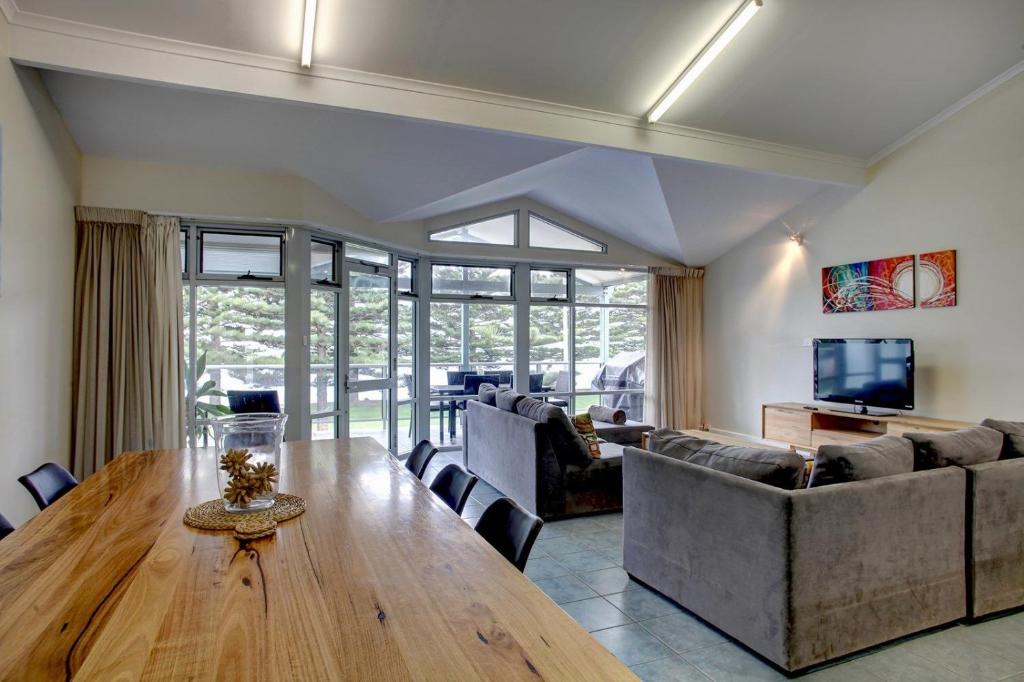 Featuring fully equipped apartments with stunning ocean views, Port Lincoln Foreshore Apartments provide a home-away-from-home experience. Each apartment boasts modern furnishings, spacious living areas, and private balconies to enjoy the breath-taking coastal vistas. Take a leisurely stroll along the foreshore or relax on the nearby sandy beaches. The apartments are conveniently located within walking distance of Port Lincoln's vibrant dining precinct, offering a plethora of options to satisfy your culinary cravings.
Port Lincoln Beachfront Apartments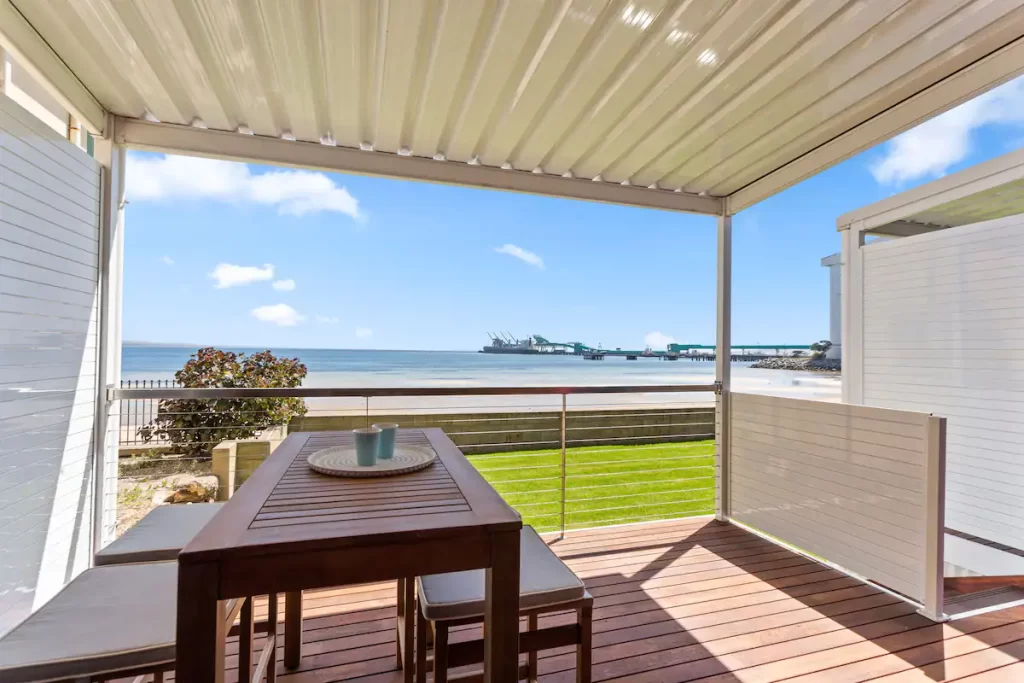 Situated along the pristine shores of Port Lincoln, the Beachfront Apartments offer modern and spacious accommodations with breath-taking ocean views. Each apartment is tastefully furnished and equipped with all the amenities needed for a comfortable stay. Take advantage of the direct beach access and spend your days soaking up the sun, swimming, or indulging in water sports. The apartments are conveniently located near popular attractions such as the Port Lincoln National Park and the Great Australian Bight, allowing you to explore the natural beauty of the region with ease.
In wrapping up, Port Lincoln serves as an exceptional coastal escape, brimming with natural marvels and a lively maritime essence. Our exploration into the realm of Port Lincoln accommodation revealed an array of choices catering to diverse preferences and budgets. Whether you're drawn to lavish oceanfront hotels, snug cabins tucked amidst nature, or budget-friendly hostels with a vibrant ambiance, accommodation options in Port Lincoln are abundant. Beyond providing cozy havens, these lodgings serve as perfect launchpads for delving into the town's stunning beaches, partaking in exhilarating water activities, and immersing yourself in the local seafood scene. For a stay in Port Lincoln that's etched in memory, consider selecting one of these exceptional accommodations, as they set the stage for an unforgettable journey along the breath-taking Eyre Peninsula of South Australia.
FAQ'S:
How far is Port Lincoln from Adelaide?
Port Lincoln is approximately 650 kilometres (400 miles) from Adelaide, South Australia
How far is Port Lincoln town from Port Lincoln Airport?
Port Lincoln town is located approximately 14 kilometres (8.7 miles) from Port Lincoln Airport. The drive between the two typically takes around 15-20 minutes, depending on traffic conditions.
What are some popular attractions in Port Lincoln?
Port Lincoln offers a range of attractions, including wildlife encounters, beautiful beaches, scenic coastal drives, and the opportunity to indulge in fresh seafood. Some popular attractions include Lincoln National Park, Glen Forest Tourist Park, and the Great White Shark cage diving experiences.
Are there direct flights from Adelaide to Port Lincoln?
Yes, there are direct flights available from Adelaide to Port Lincoln. The flight duration is approximately one hour.
Can I drive from Adelaide to Port Lincoln?
Yes, you can drive from Adelaide to Port Lincoln. The journey takes around 7-8 hours, depending on the route and traffic conditions.
What is Port Lincoln known for?
Port Lincoln is known as the "Seafood Capital of Australia" due to its thriving fishing industry. It is also renowned for its stunning coastal scenery, wildlife encounters, and outdoor activities such as fishing, diving, and boating.
What outdoor activities can I do in Port Lincoln?
Port Lincoln offers various outdoor activities such as swimming, snorkelling, fishing, boating, hiking, and wildlife tours. You can explore the rugged coastline, visit national parks, and enjoy the natural beauty of the region.
Is Port Lincoln a good destination for families?
Yes, Port Lincoln is a family-friendly destination with plenty of activities and attractions suitable for all ages. Families can enjoy wildlife encounters, beach outings, adventure parks, and educational experiences.