Melbourne
Melbourne's Top 10 Portrait Photography Locations
Melbourne, the cultural heart of Australia, offers a treasure trove of locations for photographers seeking captivating portrait settings. From the urban vibrancy of its streets to the tranquil beauty of its gardens, this city provides a diverse canvas for creative expression. In this guide, we'll explore Melbourne's top 10 portrait photography locations, each with its unique charm and visual appeal.
1. Federation Square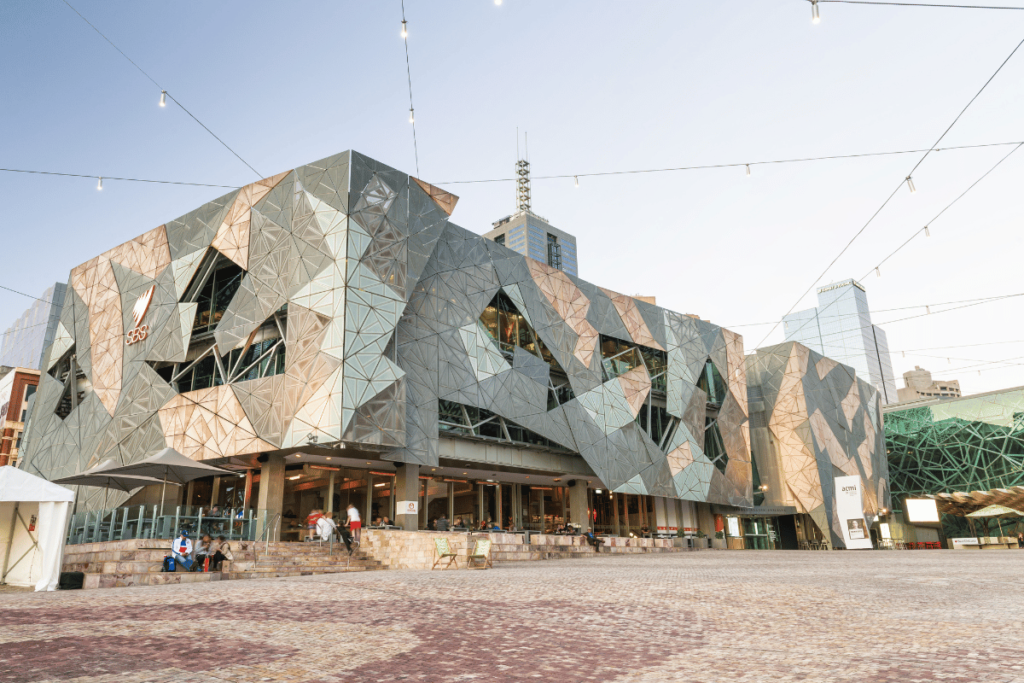 Federation Square, at the heart of Melbourne's CBD, is a bustling hub renowned for its striking architecture and vibrant cultural events. The juxtaposition of contemporary design against a backdrop of city life provides a dynamic setting for portraits. The square's modern aesthetics and energetic ambiance make it a captivating choice.
Photography Tips:
Golden Hour Magic: Plan your sessions during the early morning or late afternoon golden hours to take advantage of warm, soft lighting. This enhances the square's modernity while creating flattering portraits.
Architectural Framing: Experiment with angles to incorporate architectural lines and patterns into your compositions. Collaborate with local artists for unique and dynamic shots.
2. Royal Botanic Gardens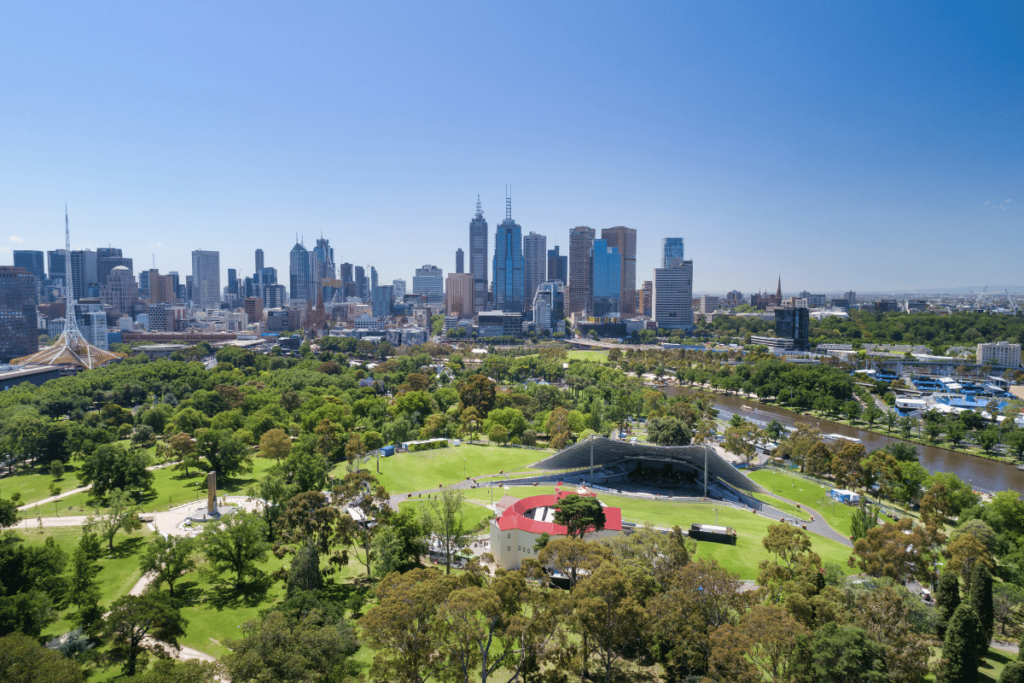 The Royal Botanic Gardens, located just south of the city centre, offer a serene and picturesque natural setting for portraits. With diverse plant species, tranquil lakes, and colourful flowerbeds, the Gardens provide a tranquil oasis in the heart of Melbourne, perfect for capturing subjects in a natural and relaxed environment.
Photography Tips:
Golden Hour Bliss: Plan sessions during sunrise or sunset to harness the soft, diffused light. This creates an enchanting atmosphere, enhancing both your subjects and the lush surroundings.
Nature's Beauty: Incorporate lush greenery, vibrant flowers, and serene water features into your compositions. Utilize reflections in the lakes for captivating mirror images.
3. Brighton Beach Bathing Boxes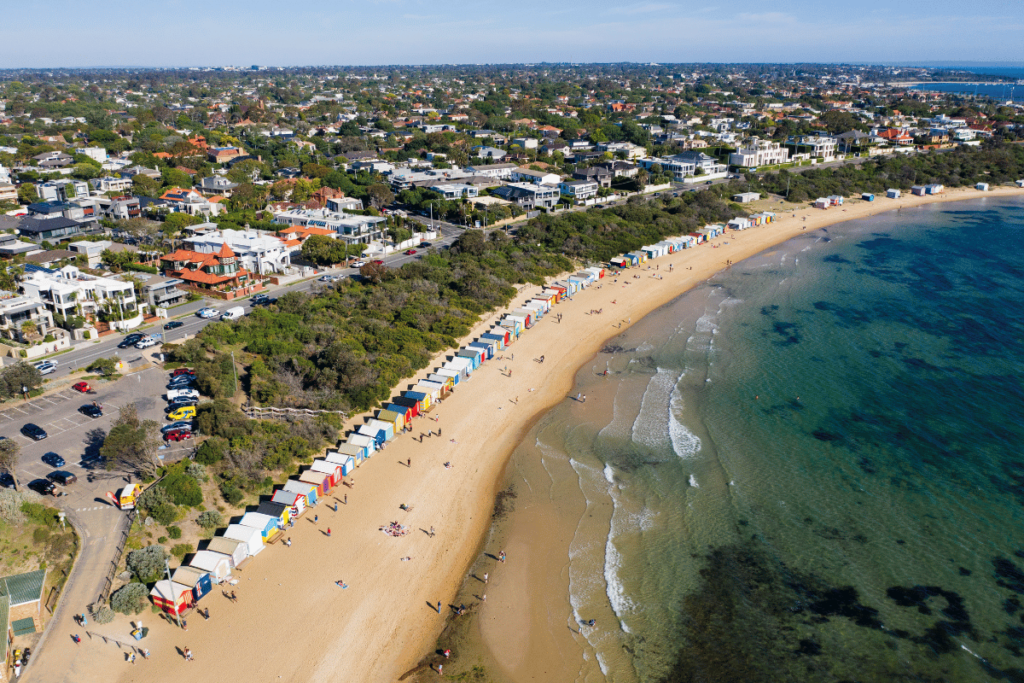 The Brighton Beach Bathing Boxes, lining the picturesque Brighton Beach, offer a whimsical and colourful backdrop for portraits. These individually painted boxes provide a playful and vibrant setting, creating lively contrast with the beach's natural beauty.
Photography Tips:
Colourful Vibrance: Emphasize the vibrant box colours against the beach and ocean. Use a wide aperture to create creamy bokeh backgrounds that make subjects pop.
Creative Play: Encourage subjects to interact with the boxes, using them as props or backdrops for storytelling compositions. Playful moments against this backdrop yield dynamic portraits.
4. Street Art in Hosier Lane
Hosier Lane, nestled in Melbourne's CBD, is famous for its ever-changing street art and graffiti murals. This edgy, vibrant, and dynamic location offers endless creative opportunities for portrait photography.
Photography Tips:
Artistic Backdrops: Take advantage of bold, colourful street art as backdrops. The expressive art complements subjects' personalities.
Diverse Compositions: Experiment with angles, perspectives, and focal lengths to create unique compositions. The lane's confines offer framing possibilities.
5. St Kilda Pier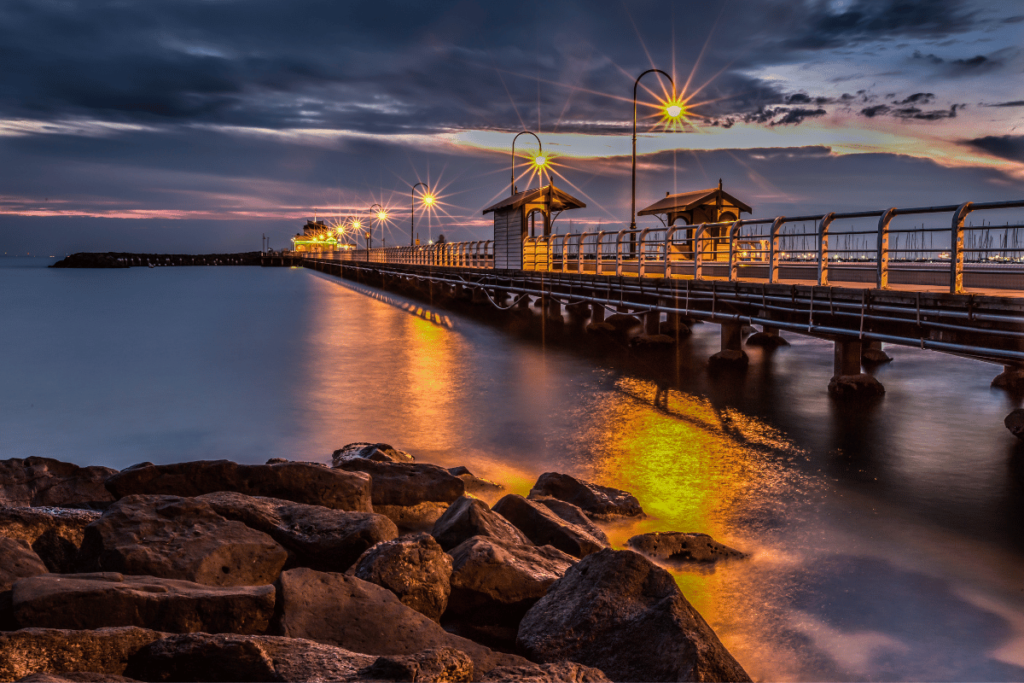 St Kilda Pier, in the suburb of St Kilda, offers mesmerizing views of Port Phillip Bay and the Melbourne skyline. It's versatile, allowing for beachside portraits and dramatic sunset shots against the bay.
Photography Tips:
Golden Hour Charisma: Schedule sessions during sunrise or sunset for enchanting golden hour light. Soft illumination bathes subjects and intensifies the bay's colours.
Reflective Moments: Utilize wet sand during low tide for reflections and captivating mirror images. Timing can include shots of local penguins returning to their nests at dusk.
6. National Gallery of Victoria (NGV)
NGV is an artistic gem, showcasing contemporary and classical art. Its grand architecture and impressive collections offer an indoor setting with artistic flair for portraits.
Photography Tips:
Playing with Light: Pay attention to natural and artificial light. Large windows bring in soft, diffused light, creating an inviting atmosphere for subjects.
Artistic Integration: Incorporate artworks into compositions, either as framing elements or to provide context. Experiment with angles to emphasize NGV's grandeur.
7. Melbourne Central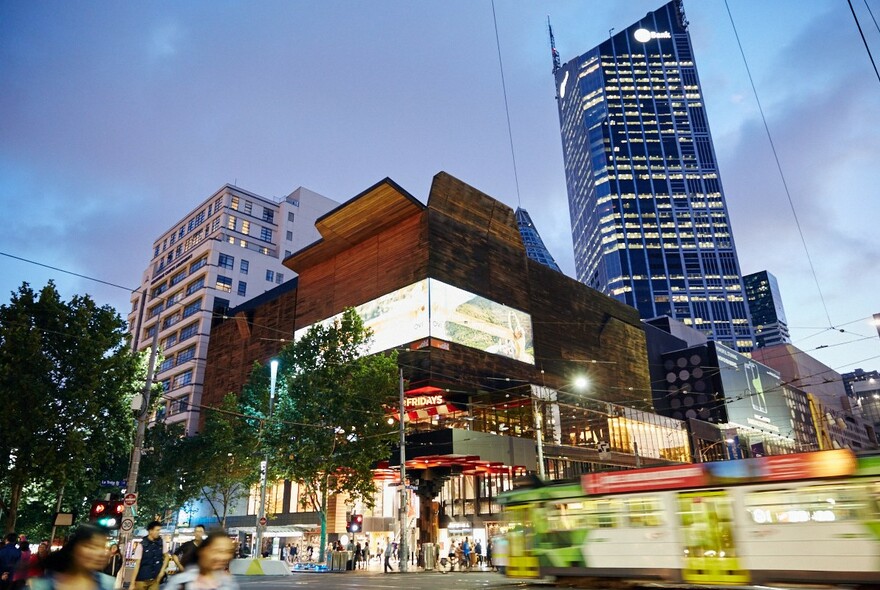 Melbourne Central, in the city centre, is a bustling shopping precinct blending modern and industrial design. It's a versatile indoor location for various portrait styles.
Photography Tips:
Structural Elements: Unique architecture, including a historic shot tower, offers creative possibilities. Use geometrical structures and captivating design elements as frames.
Playing with Lights: Melbourne Central features varied lighting conditions. Leverage these for mood and atmosphere in your portraits.
8. State Library Victoria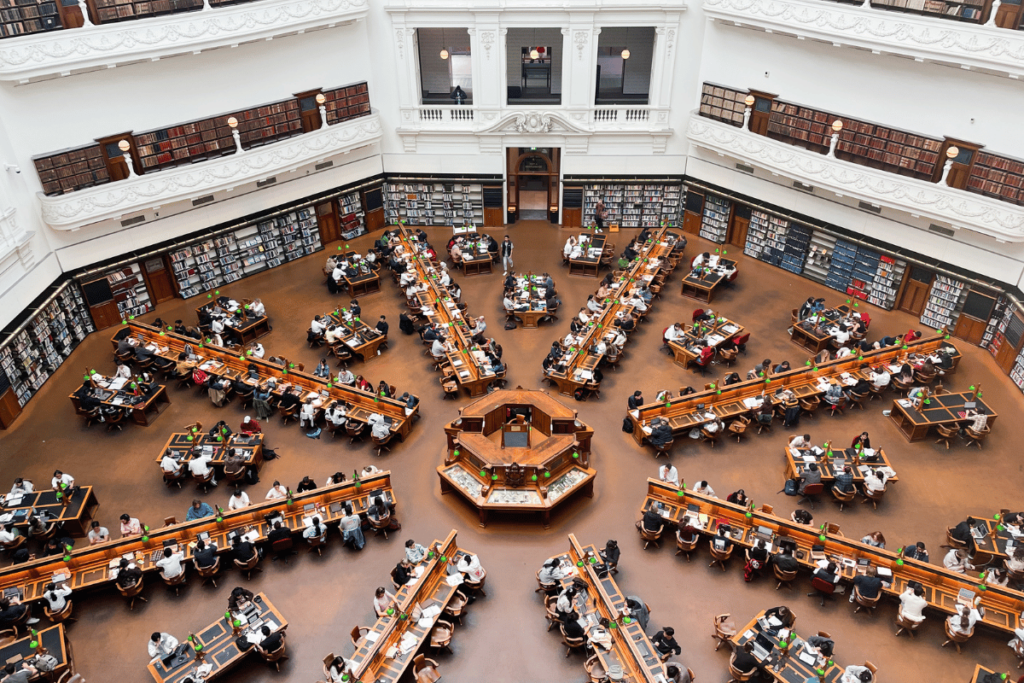 The State Library Victoria, an architectural masterpiece, is known for its grand reading rooms and historic ambiance. It provides an indoor setting with sophistication.
Photography Tips:
Natural Light Harmony: Embrace natural light sources, especially in the grand reading room. Soft, diffused light through windows creates a serene atmosphere.
Detail Emphasis: Highlight architectural intricacies and historic charm. Experiment with angles to capture subjects engaging with elegant design elements.
9. Royal Exhibition Building and Carlton Gardens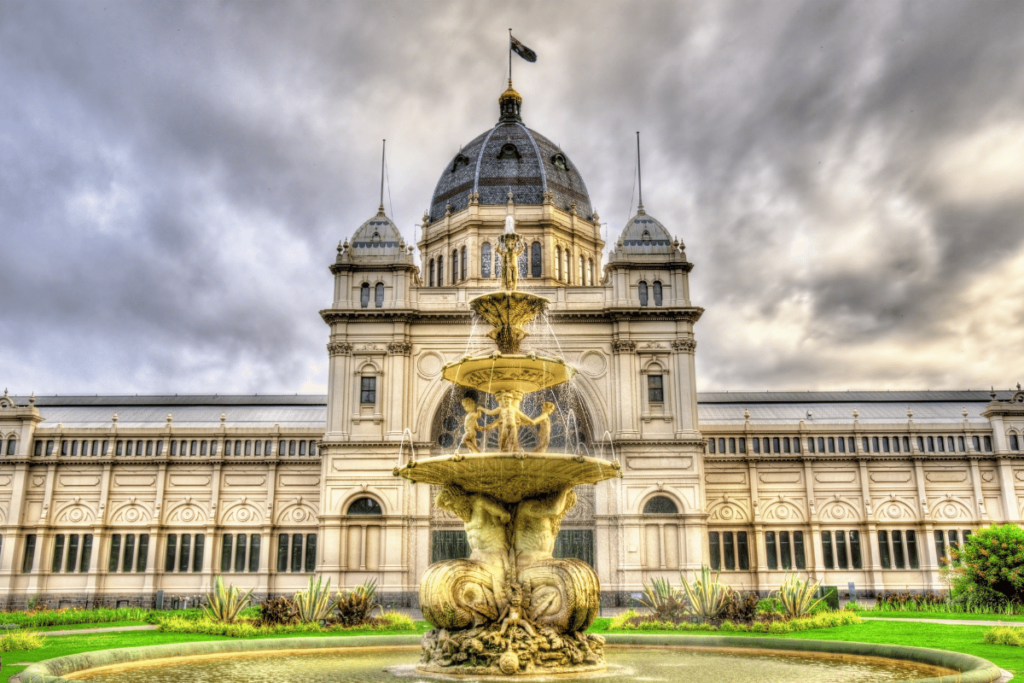 The Royal Exhibition Building, a UNESCO World Heritage site, stands as a testament to Melbourne's architectural grandeur. Surrounded by the lush Carlton Gardens, this location offers both historical and natural beauty for portraits. The majestic building and expansive gardens provide an elegant backdrop for your subjects.
Photography Tips:
Historical Elegance: Capture subjects against the backdrop of the Royal Exhibition Building's ornate façade. Utilize the building's symmetry and intricate details in your compositions.
Nature's Harmony: Incorporate the greenery and tranquil ambiance of Carlton Gardens into your shots. The gardens offer opportunities for candid and relaxed portraits.
10. Yarra River and Southbank Promenade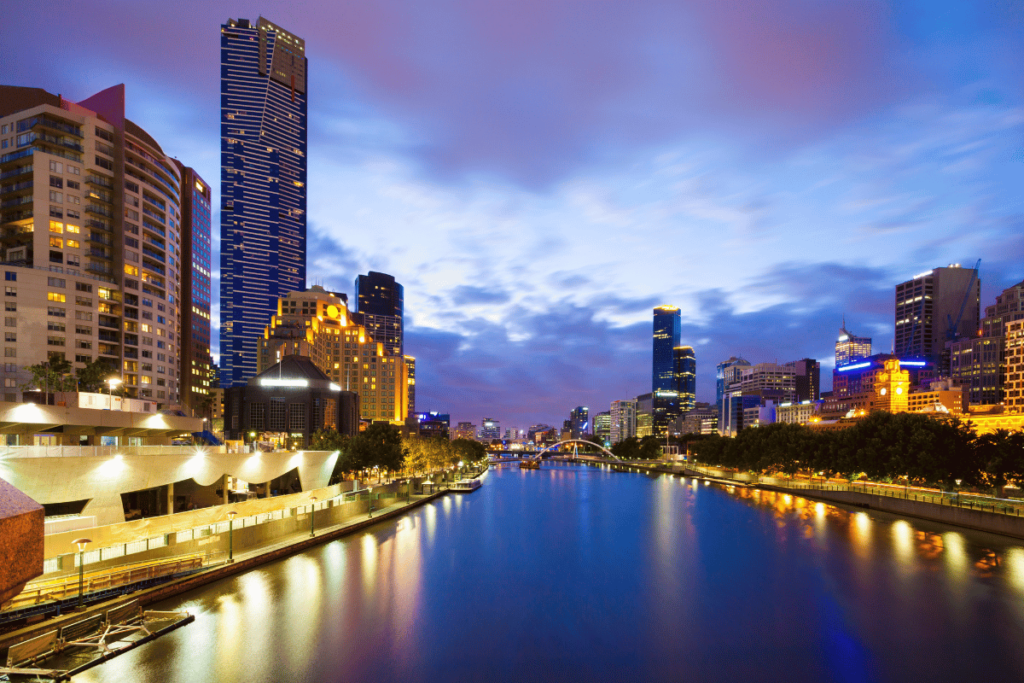 The Yarra River, meandering through Melbourne's heart, offers a picturesque urban landscape for portrait photography. Southbank Promenade, with its stunning skyline views, modern architecture, and vibrant atmosphere, provides a dynamic setting for creative portraiture.
Photography Tips:
Urban Elegance: Utilize the river as a reflective surface for captivating mirror images. Include iconic Melbourne landmarks like Flinders Street Station and Princes Bridge in your compositions.
City Lights: After dusk, the cityscape comes alive with colourful lights. Night-time photography along Southbank Promenade creates a contemporary and dramatic feel for your portraits.
Conclusion
Melbourne, with its eclectic blend of urban charm and natural beauty, stands as a captivating backdrop for portrait photography. The city's top 10 portrait photography locations offer a diverse range of settings, each with its unique appeal and storytelling potential.
From the dynamic streets of Federation Square to the serene gardens of the Royal Botanic Gardens, Melbourne provides a canvas that caters to various creative visions. The city's architectural wonders, cultural hubs, and waterfront panoramas offer photographers a wealth of opportunities to capture the essence of their subjects.
As a photographer, Melbourne becomes your collaborator, adding depth and character to your portraits. Whether you prefer historical elegance, urban sophistication, or natural tranquillity, these locations serve as more than just backdrops—they are integral components of the visual narrative.
So, pick up your camera, explore these diverse settings, and let Melbourne's rich tapestry inspire your photographic storytelling. In Melbourne, your portraits are not just images; they are stories waiting to be told against the vibrant canvas of this remarkable city. Happy shooting!