Cleaning
Cleaning Services for Melbourne Businesses: Enhancing Productivity and Professionalism
In Australia, working adults spend a third of their time working. Since they spend most of their time working, Melbourne business owners must invest in maintaining a healthy and safe work environment. After all, healthy employees directly contribute to productivity. Workplace cleanliness is a topic that is highlighted now more than ever, especially following the recent pandemic. Some studies support how cleanliness and organisation in your workspace can improve focus and productivity.  
Whether you want to improve productivity or business image by prioritising cleanliness, it's no secret that hiring a professional cleaning service is a wise investment. Moreover, an employer is legally responsible for providing a safe and healthy work environment for their employees.
Benefits of Hiring Cleaning Services for Melbourne Businesses
A professional cleaning service can guarantee superior cleaning performance for your workplace. These are the benefits that make office cleaning services Melbourne worthwhile.
Employee Benefits
A clean and well-sanitised office or work environment directly benefits your employees. These employees spend at least eight hours a day in that workspace, so you must maintain a clean and safe environment for them.
A professional cleaning service in Melbourne can facilitate that for your business because they have well-trained cleaners and professional cleaning equipment. These services also do more than make your space clean; harmful contaminants that can pose serious health risks are also eliminated.
When you hire office cleaning services in Melbourne, it benefits your employees by improving their workspace. It shows your commitment to your employees' health and well-being. It can foster a positive work culture wherein you invest in caring for your employees' wellness.
A healthy and clean workspace improves employee productivity. It takes the responsibility off employees to clean and maintain the office space, freeing up their time to focus on their work responsibilities, improve focus, and boost productivity.
As mentioned, office cleaning services do more than just clean the visible dirt and dust in your office. They can improve the air quality within the office. According to The Commonwealth Scientific and Industrial Research Organisation, the cost of poor indoor air quality in Australia is estimated at $12 billion annually. When the indoor air quality of your office or workplace is improved as a result of professional cleaning, airborne viruses and bacteria that can put your employee health at risk can be eliminated. It is especially crucial when employees are at risk from allergies and various respiratory conditions. 
With a healthier work environment, your employees will take fewer sick days. They will also deliver their best work when they are healthy. And when employees are healthy, they are happier and more satisfied at work, making them more valuable members of your team. Any investment you put toward cleaning your office space can pay off big in the long run.
Customer Benefits
A clean and sanitised business space is also beneficial for your customers. Any Melbourne business strives to put its best foot forward by creating an aesthetic and inviting atmosphere, especially when your business involves welcoming customers to your space. As a customer, you also want to enter a clean and well-organised space. The quality and care of maintaining the office and business space reflect on the company. The more organised and clean their premises are, the more likely you will trust them enough to do business.
Therefore, a professional office cleaning service can add value to the customer experience. It makes your business with customers a positive and pleasant one. Only the best cleaners can help you create that impression for customers.
In addition, professional cleaners can take care of the finest details that regular office cleaning staff would easily overlook. For example, window and carpet cleaning are essential to a business that wants to leave a positive impression on customers. Invest in a complete cleaning service to attract more customers to your business.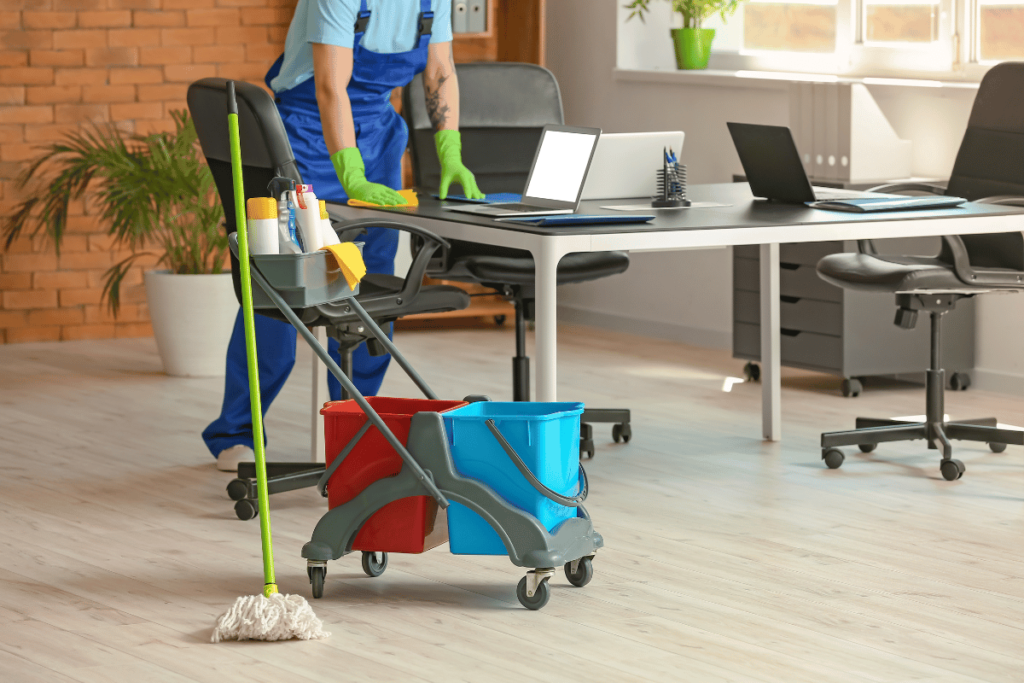 Financial Benefits & Cost Savings
While professional cleaning is neither free nor cheap, it is an economic investment that would bring higher returns. In fact, hiring commercial cleaners can lead to more financial savings for your company. Business owners seek ways to reduce operational costs and maximise profits or savings. You can achieve both when you work with a professional office cleaning service in Melbourne.
First, you can save when you hire professional cleaners because they can eliminate dust, dirt, and allergens in the office. Reducing the potential health risks can control the spread of certain viruses in your workplace and improve overall indoor air quality. These measures can add up over time because you improve your employee health and prevent them from taking more sick days. Reducing employee absenteeism is the first step to being more productive and increasing returns on your investment.
Another way that a professional cleaning service can help you save financially is by eliminating the need to buy your own cleaning supplies and equipment. High-end cleaning equipment for office cleaning can be costly to acquire. Investing in on-demand cleaning services eliminates the need to invest in these cleaning supplies and equipment. In addition, you must consider the savings from the fact that you won't have to hire and train an in-house cleaning team. The cost-benefit analysis could work in your favour in this regard.
Finally, you can enjoy significant financial savings when hiring a professional cleaner since it guarantees a clean facility. It can attract more customers and boost your branding. A clean office or business space can make a positive impression for your company, giving more value to your investment.
Final Recommendations on Office Cleaning Services in Melbourne
A professional and commercial cleaning service can be your partner in success as a business. They understand the importance of prioritising health and safety for businesses, which makes their services highly valuable. They also support you in creating a positive impression on your customers as you can present an image of quality and professionalism.
But not all cleaners are the same. Choose the best Melbourne cleaning services that treat your business with the same level of respect and care as you do.